A tribute from Godchecker HQ.
Chas was our founder and the original Godchecker-in-Chief. He will be sadly missed by all the gods. Particularly the ones he never got around to illustrating. We've received many glowing tributes and kind remarks – thanks to everyone who has blessed us with their thoughts.  Here is the brief tribute which Peter, our Director of Holy Operations, read out at the funeral of this tremendously missed man…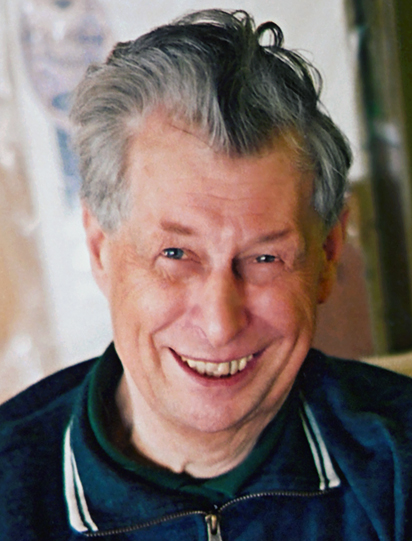 "Chas was my closest friend for fifteen years. He was a huge influence on my life. Chas inspired me, made me laugh and introduced me to gods, beer and jazz. Most importantly, he helped me realize that it's perfectly acceptable to be yourself, no matter how many people stare at you on the bus.
"I first met him while working on a local arts council magazine. There was no budget and I was trying to cadge freebie illustrations. Of course he was delighted to oblige. He found it impossible to refuse those in need.
"On first meeting, Chas was immediately likeable, a beaming middle-aged genius with an eccentric twinkle in his eye. (I'm not kidding. He really did have an actual twinkle in his eye.) Hardly before I could open my mouth he was telling me about Grimble – his extraordinary personalized board game — and bubbling over with enthusiasm for a never-ending stream of projects and ideas.
"A strange friendship blossomed. It turned out he was writing a novel. As an impoverished zinester, I offered to type up the manscript in return for the use of his precious photocopier. This almost led to disaster. Late one night Chas was woken by strange noises coming from downstairs. Fearing the worst, he crept down the stairs in the dark clutching a big stick, and discovered a scruffy-looking guy skulking in the shadows of his studio. It was me, running out copies of a fanzine at 2 o'clock in the morning.
"I discovered early on that it was impossible to stop him talking. For the next fifteen years I gave up trying. His mind was constantly bubbling with ideas and anecdotes and the invention of personalised board games. It never stopped. If no-one was around, he would scribble it all down instead and post it through my letterbox the next day in an envelope marked URGENT SPIBBLE. Strangely enough, I loved every second of it.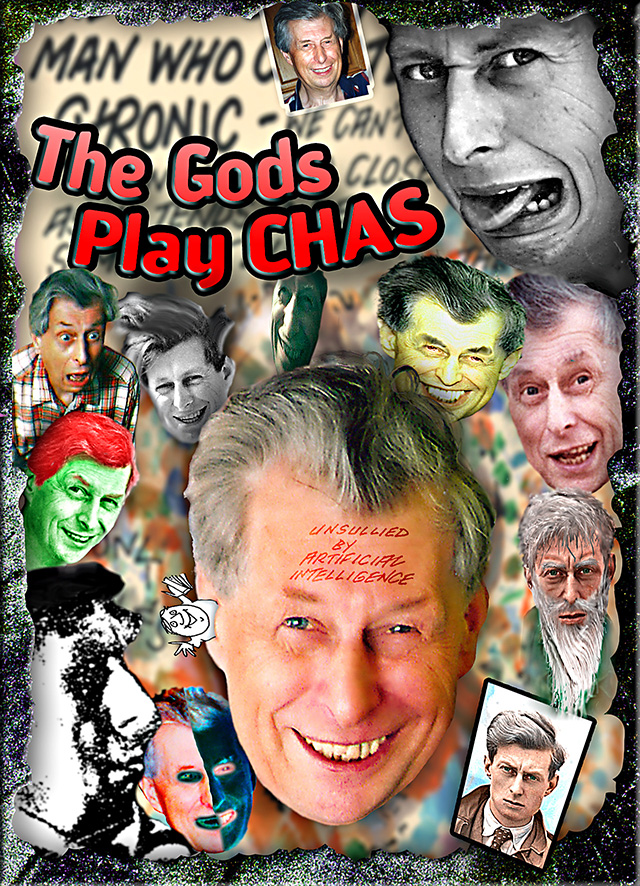 "Maybe it sounds odd to say it now he's gone, but Chas always seemed just that little bit more alive than everyone else. He had that magical spark of puckish curiosity which kept him permanently on the cusp of discovering or creating yet another wonderfully peculiar thing. Whether a simple sketch on the back of a gas bill or a twisted tree root intricately detourned into an ornamental garden god, he was utterly unable to stop creating. Even humble stationery could become a thing of wonder with a little thought and a couple of pieces of string. Yesterday's egg whisk would unexpectedly find a new lease of life as a portable wurdling flumper with kludge attachment.
"Perhaps it was the beer, but his tales of disreputable jazz-drinking voutaroonie real ale cartoonists struck some kind of bizarre chord with me. We spent the next ten years joined at the creative hip producing weird and wonderful projects — and having tremendous fun doing it. Happy memories of testing prototype Godchecker games to destruction over a bottle of cheap wine I will cherish forever.
"Chas was a tremendous source of arcane knowledge, as well as outrageously silly humour. He was like a cross between Gandalf the wizard and the four Marx Brothers. He even had silly magic powers. For example, his miraculous ability to catch houseflies backwards while playing the drums.
"Chas was a wonderful human being: warm-hearted, generous, and totally loyal. He was always willing to lend a hand — or in extreme cases help shove an iron-framed piano up a flight of stairs, and he gave his friendship one hundred per cent. He only asked in return that everyone around him be happy, fulfilled and as merry as possible. I think that's quite an appropriate philosophy for a man who drew cartoons for a living.
"Luckily he has left us with rich memories and a lasting legacy of the entire human condition in cartoon form. So farewell to the world's one and only Grimblemaker. You did the Gods of Beer and Jazz proud. Cheers Chas!"
Donations can and should be made to the National Autistic Society